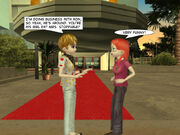 Chapter 21
, titled
Bad Fellas
, is the twenty-first chapter in Audition's KP The Series. This time around,
Ron
got backstabbed quite hard by a fellow he considered good friends, which infuriated
Kim
and prompted her to extract revenge against that guy...
Storyline
Edit
A new year has arrived, and Kim & Ron only have a couple of months left before they can go home - after leaving the office, Kim is off to return the Magic Orb which helped making Christmas special for her to Zinky. She then reunites with Monique at North Point Mall for their usual shopping - this time, Monique got help by a new staff member and she suggests Kim to meet that girl while she goes get the car. Kim does so, and she is introduced to Wis Culen, a member of Vice City Design Team that often works at night, but find herself in need of some cash so she took up a part time job at North Point Mall. Wis comments on the load of stuff Kim bought, but reminds her to be caution because VCPD is trying to crack down a money laundering case and by spending too much like this, Kim could be suspected. This certainly upsets Kimmie, as she is an Audition Manager and her records is completely clean so nobody should come after her just because she spends what she earned. Deciding to help solving the case, Kim goes back to the office - to her surprise, Ron has just left on some trading business, and Kate thinks he's around Ocean Beach now. Following this lead, Kim runs into Ron's trading partner, Victor Manzano, who claims to own a Pawn Shop and is needing some funding so he seeks help from Ron and his friends. Later on, Kim finds out that Ron agreed to lend Vic money, and he would get a whooping 40% interest once it's paid back, which is quite suspicious to Kim. She then heads over to VCPD HQ to ask Dan about Vic's background - that guy appears to be nice and respect the law with his business, but somehow Kim still can't trust him due to the sweet deal, even for a friend like he said. The tweebs agree with sister as well - Vicky is definitely up to something...
(To be continued)
Community content is available under
CC-BY-SA
unless otherwise noted.